Stephen Allen Boppart
Electrical and Computer Engineering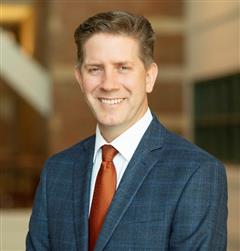 Professor
4351 Beckman Institute MC 251
405 N. Mathews
Urbana Illinois 61801
(217) 244-7479
Administrative Titles
Primary Research Area
Biomedical Imaging, Bioengineering, and Acoustics
Education
M.D. Medicine Harvard Medical School June 2000
Ph.D. Medical and Electrical Engineering Massachusetts Institute of Technology June 1998
Biography
Prof. Boppart graduated from the University of Illinois at Urbana-Champaign (UIUC) in 1990 with a B.S. in Electrical Engineering and an option in Bioengineering. Continuing at UIUC, he completed his M.S. in Electrical Engineering in 1991, where he developed microfabricated multi-electrode arrays for neural recordings. From 1991 to 1993, at the Air Force Laser Laboratory in San Antonio, Texas, he conducted research on laser-tissue interactions in the eye, helping establish national laser safety standards. Prof. Boppart then went on to MIT, receiving his Ph.D. in 1998 in Medical and Electrical Engineering. His doctoral studies included the development of optical coherence tomography in Prof. Jim Fujimoto's laboratory. As part of a joint program between MIT and Harvard, Prof. Boppart completed his M.D. from Harvard Medical School in June 2000. Currently, Prof. Boppart is a full professor with appointments in the Departments of Electrical and Computer Engineering, Bioengineering, and Medicine at UIUC. He is Head of the Biophotonics Imaging Laboratory at the Beckman Institute for Advanced Science and Technology and along with a team of 25 researchers, is investigating novel optical diagnostic imaging technologies for basic science and translational clinical applications. From 2006-2008, he served as Founding Director of the Mills Breast Cancer Institute, and holds a joint position with Carle Foundation Hospital and Carle Clinic Association in Urbana, Illinois. His efforts included constructing a new building and developing new infrastructure to support translational research and technology development in breast cancer research between UIUC and Carle Foundation Hospital. Currently he is initiating efforts to direct a campus-wide Illinois Imaging Initiative intended to leverage the strengths and diversity of over 100 faculty working in all aspects of imaging science, technology, and application.
Academic Positions
Director, Imaging at Illinois; Beckman Institute for Advanced Science and Technology, University of Illinois at Urbana-Champaign, August 2008-Present
Full Professor (50%), Department of Electrical and Computer Engineering; Research Associate Professor (0%), Micro and Nanotechnology Laboratory; Associate Professor (50%), Bioengineering Program; Research Associate Professor (0%), Institute for Genomic Biology; Associate Professor (0%), Neuroscience Program; Research Associate Professor (0%), Beckman Institute for Advanced Science and Technology, University of Illinois at Urbana-Champaign, August 2008-Present
For more information
Teaching Statement
Prof. Boppart's teaching activities and interests are highly interdisciplinary, following his research activities. Teaching activities cover cross-cutting areas in engineering, medicine, and biology. Courses have included ECE/BioE 414 and 415, Biomedical Instrumentation lecture and laboratory, ECE 460 Optical Imaging, ECE 280 Biomedical Imaging, and ECE 467 Biophotonics. For each of these, courses are taught relating fundamental engineering and scientific principles to real-world applications. Students participate directly with state-of-the-art information exchange by performing literature searches and preparing classroom presentations of journal articles about techniques and technologies discuss in lecture. Concepts are reinforced by use of stimulating discussions centered around clinical scenarios. For example, students in ECE 280 Biomedical Imaging are randomly given a medical beeper than when called for an "emergency", are presented with clinical medical images and scenarios that call on their ability to apply course principles to diagnose technical problems in the imaging data or systems. Students complete these courses having a broad-based knowledge of these subjects, and key tools for further in-depth investigations and advanced study.
Research Statement
My interdisciplinary research group combines the fields of engineering, medicine, and biology to diagnostically assess cells and tissue for disease. Biophotonics, the application of light in medicine, biology, and biotechnology applications, allows us to develop novel technologies to detect disease at early stages, when it is most amenable to treatment. Currently, we are developing optical coherence tomography and multi-photon microscopy, two emerging high-resolution imaging technologies, to investigate bioMEM systems and tumor cell dynamics.
Undergraduate Research Opportunities
There is a long history of undergraduate research opportunities in Prof. Boppart's Biophotonics Imaging Laboratory. Over the last 8 years, over 30 undergraduate students have conducted research leading to an undergraduate thesis. Research areas cover aspects of optical imaging and physics, signal and imaging processing, image acquisition systems, biomedical optics and biophotonics, and laser and optical source development. Undergraduate research experiences typically extend over three or more semesters, and result in the completion of an undergraduate thesis and a departmental symposium presentation. Exceptional research has been published in peer-reviewed journals and presented at national conferences.
Research Interests
Optical Diagnostics of Cancer
Medical Engineering
Image-Guided Surgery
Optical Coherence Tomography
Lasers in Medicine and Biology
Optical Biomedical Imaging
Research Areas
Biomedical imaging
Biosensors and bioelectronics
Coherent optics/imaging
Lasers and optical physics
Nano-photonics
Ultrafast laser spectroscopy
Honors
Paul F. Forman Engineering Excellence Award, Optical Society of America, 2009
Fellow, Optical Society of America, 2009
Fellow, SPIE - International Optical Society, 2009
Special Recognition of Achievement Award for Promotion Dossier Campus Committee on Promotion and Tenure, 2008
Visiting Professorship, Raine Medical Research Foundation, 2007-2008
Engineering Council Award for Excellence in Advising, 2006 and 2007
IEEE, Elected Senior Member, 2005
University of Illinois Alpha Chapter Tau Beta Pi (Engineering Honor Society) Outstanding Alumni Award, 2005
IEEE Engineering in Medicine and Biology Society Early Career Achievement Award, 2005
UIUC College of Engineering Young Alumni Achievement Award, 2005
Technology Review Magazine's Top 100 Young Innovator in the World, 2002
Whitaker Foundation Fellow, 2001
Young Faculty Award, American Association of Anatomists, 2001
Graduated cum laude, Harvard Medical School, 2000
New Focus, Inc. Student Travel Award, 1998
American Association of Anatomists Travel Award, 1998
Coherent Laser Group Conference Travel Award, 1995
Brooks Air Force Base Outstanding Civilian of the Year Armstrong Laboratory, 1992
Graduated summa cum laude (Highest Honors), 1990, University of Illinois
Norman R. Carson Outstanding Junior Electrical Engineer in the United States, 1989
Eta Kappa Nu Outstanding Electrical Engineer, 1989, University of Illinois
National Society of Professional Engineers Scholar, 1986
Teaching Honors
Engineering Council Award for Excellence in Advising, 2006
UIUC College of Engineering Everitt Award for Teaching Excellence, 2003, 2005
Research Honors
National Science Foundation CAREER Award, 2004
UIUC College of Engineering Xerox Faculty Award for Outstanding Research, 2002
Resident Physician Research Award, College of Medicine, University of Illinois, Urbana, 2001
Soma Weiss Research Award, Harvard Medical School, 1999
Air Force Office of Scientific Research (AFOSR) Outstanding Armstrong Laboratory, 1992
Armstrong Laboratory Director's Award for Excellence, 1991
Air Force Scientific Advisory Board's Superior Laboratory at Brooks Air Force Base, 1991
E.C. Jordan Award for Bioengineering Research, 1990, University of Illinois
Public Service Honors
National 4-H Alumni Award for Illinois, 2008
Ironwood Lake Association, Board Member, 2006
Volunteer, Children's Science Museum, Exhibit Planning, 2002
Judge, Illinois Science Olympiad State Tournament, 2001
Judge, Illinois Junior Academy of Sciences, Science Fair, 2001, Regional Science Fair 2003
Usher and Volunteer, St. Matthews Catholic Church, Champaign, IL, 2000; Nursery Supervisor, 2002