Nitin H. Vaidya
Electrical and Computer Engineering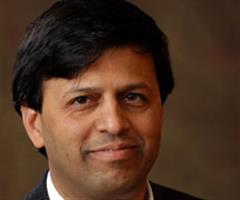 Professor
458 Coordinated Science Lab MC 228
1308 W. Main St.
Urbana Illinois 61801
(217) 265-5414
Primary Research Area
Networking and distributed computing - Distributed algorithms
Education
Ph.D., University of Massachusetts, Amherst, 2/1/1993
Biography
Nitin Vaidya received the Ph.D. from the University of Massachusetts at Amherst. He is a Professor of Electrical and Computer Engineering at the University of Illinois at Urbana-Champaign (UIUC). He has held visiting positions at the Indian Institute of Technology-Bombay, Microsoft Research, and Sun Microsystems, as well as a faculty position at the Texas A&M University. He co-authored papers that received awards at the 1998 ACM MobiCom, 2007 ACM MobiHoc, and several other conferences. Nitin Vaidya is an IEEE Fellow, and a recipient of a CAREER award from the U.S. National Science Foundation. He has served as Editor-in-Chief for the IEEE Transactions on Mobile Computing, and Editor-in-Chief for ACM SIGMOBILE publication MC2R. For more information, please visit http://users.crhc.illinois.edu/nhv/.
For more information
Teaching Statement
My teaching interests are in the area of distributed computing and networking.
Research Statement
Research on distributed algorithms and systems, and wireless networks.
Undergraduate Research Opportunities
Prof. Vaidya's research group conducts research in the area of distributed algorithms and systems, and wireless networks. Opportunities are sometimes available for undergraduate students interested in working on distributed systems or wireless networks. Suitable students will have taken at least one of ECE/CS 438; ECE/CS 439 or ECE 428/CS 425.
Research Interests
Wireless networking
Fault-Tolerant Computing
Distributed algorithms
Research Areas
Communication networks
Computer networking
Computer security, privacy, and information trust
Distributed algorithms
Distributed and peer-to-peer systems
Fault tolerance and reliability
Honors
2006-2007, Distinguished Lecturer, IEEE Communications Society.
2005, Appointed as Editor-in-Chief of IEEE Transactions on Mobile Computing (3 year term)
2004, Appointed as Editor-in-Chief of ACM Mobile Computing and Communications Review
2000-2001, 3M Faculty Fellow, College of Engineering, Texas A&M University
1998-2001, Distinguished Visitor Program speaker, IEEE computer Society
1996 TEES Select Young Investigator Award, Texas A&M University
1995 CAREER award from the National Science Foundation
Teaching Honors
1999 Graduate Faculty Teaching Excellence Award, presented by Computer Science students at Texas A&M University (April 1999)
Research Honors
Best Student Paper Award, Vartika Bhandari and N. H. Vaidya, ACM International Symposium on Mobile Ad Hoc Networking and Computing (MobiHoc), September 2007.
2003 Best Paper Award, Eighth International Conference on Personal Wireless Communications, Venice, Sept. 2003.
1999 Faculty Research Excellence Award, presented by Computer Science students at Texas A&M University, April 1999
1998 Best Student Paper Award, Young-Bae Ko and Nitin Vaidya, Fourth Annual ACM/IEEE International Conference on Mobile Computing and Networking (MOBICOM), October 1998
1995 CAREER award from the National Science Foundation